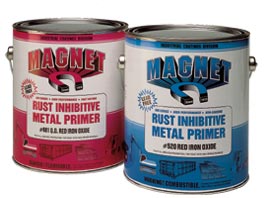 500 Series Standard Dry &
600 Series Quick Dry -
Heavy Duty, Lead Free Industrial Primers
These premium quality alkyd primers inhibit rust and corrosion, penetrate cracks around light rust and mill scale and have good wetting properties providing penetration and excellent bonding to hand or power tool cleaned surfaces. For use on all interior and exterior metal surfaces, including equipment, machinery, tanks, rolling stock and other tough surfaces. They are especially recommended for use over structural steel but are equally effective on ornamental iron, tinplate and weathered galvanized iron. Excellent protection in a wide range of manufacturing, industrial, municipal, agricultural and institutional applications. For use in mild to moderate atmospheric services. MAGNET Primers exhibit high hiding and good leveling properties and air dry to a durable eggshell finish. Topcoat with MAGNET 4800 Series Enamels for long term protection against abrasion, impact and rusting while providing resistance to mild chemicals, salt air, moisture, corrosion and temperature extremes.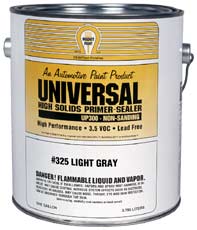 300 Series - Universal Non-Sanding Automotive & Industrial Primer
An easy-to-use universal high solids primer-sealer formulated especially for the OEM, fleet refinish and industrial markets. Dries in just 30 minutes and exhibits excellent corrosion resistance without the use of lead or chromates. Provides excellent color holdout and uniformity. Dries to a smooth surface; no sanding is required. Contains less than 3.5 lbs. per gallon VOC and can be applied using conventional, airless or HVLP spray over properly prepared steel, aluminum or existing fully cured topcoats and OEM finishes. Since no catalyst is required, it has an unlimited pot life. Top coat with 4800, 9000 or 5000 Series Enamel systems. If sanding is required, wet sand only after 24 hours cure.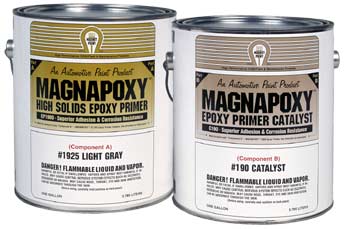 1900 Series - MAGNAPOXY™
High Solids
Epoxy Primer
A two-component, 3.5 VOC, lead, chromate and isocyanate free epoxy primer formulated for maximum adhesion and corrosion resistance to properly prepared metal, fiberglass and aluminum surfaces. Features fast dry and recoat times and good color holdout properties. Can be top coated at any time without concern of lifting. Ideal for truck fleet refinishing, heavy equipment and automotive refinishers where extended service life is important in harsh and abusive environments. Convenient 1:1 mix ratio with no induction time. Fills minor scratches and surface imperfections. Can be reduced for use as a sealer. Mixed pot life is 24 hours.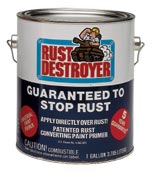 RUST DESTROYER® -
Patented Rust Converting Primer
A one step system engineered to be applied directly over rusted or partially rusted surfaces in one application without scraping, grinding or blasting to bare metal. Converts active rust to a passive form on contact. An absorbing action in the paint film simultaneously raises the rust from the surface and envelopes all converted crystals in the primer, eliminating exposure to oxygen and moisture, which will prevent further rusting. Rust Destroyer® forms a tough shield that adheres to most paints and provides a continuous protective layer that is absolutely GUARANTEED TO STOP RUST up to five years when coated with exterior type coatings suitable to the environment. Has superior adhesion to all metal surfaces both clean or rusted such as: steel, core tan steel, aluminum, tin, zinc galvanized and hot dip zinc galvanized metal, and previously painted surfaces. Rust Destroyer® is lead free and heat resistant up to 800°F.