Watch Stacey David use CHASSIS SAVER
on Ted Nugent's Zebra Bronco


"Oh by the way I have bought a gallon of your Chassis Saver
before for my race car, and I have to say that stuff is
awesome. Very high quality product for a very good price.
Sure beats POR-15!!!" L.M., Woretown, NJ

"I have waited before saying anything about your Chassis Saver
product until I had a chance to try both your product and the
competition. I am very satisfied with the finish and durability.
The restoration I completed 3 years ago looks as if it was done
a few months ago. Your product is by far the most durable and
provides excellent coverage. Chassis Saver is really
awesome paint, it beats the finish of POR-15 hands down."
J.C., Colorado Springs, CO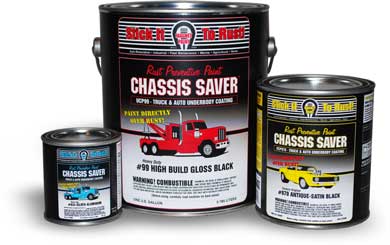 Now available - Antique-Satin Black
for factory original restorations

CHASSIS SAVER is a high solids, VOC compliant, single component chassis paint and underbody coating specially formulated to permanently stop automotive and truck corrosion without the use of primers or topcoats. Chassis Savers unique "RUST STOPPING" properties permit its application directly over tightly adhered rust after only marginal surface preparation using a wire brush and/or hand scraper to remove loose scale and rust particulate. Optimum results can be achieved by sandblasting a medium blast profile to surfaces. Chassis Saver bonds to blasted and rusty metal to form a rock hard yet flexible, glaze-like, non-porous finish that won't crack, chip, flake or peel. It works by isolating metal from oxygen and moisture, and without these factors present... RUST STOPS Dead in its tracks! Chassis Saver cures by reacting with atmospheric moisture and its cured film resembles that of a catalyzed finish yet no hardeners or activators are used. Chassis Saver is completely unaffected by road salt, gasoline, diesel fuel, oils, battery acids, hydraulic fluids, solvents, chemicals, or corrosives.

CHASSIS SAVER has proven itself over 10 years under the harshest conditions. More than 350 townships, public works departments and local DOT fleet maintenance facilities use CHASSIS SAVER for protection of snow and ice removal equipment, highway, off road and general vehicle maintenance.

Download Technical Data Bulletin (PDF 425 kb)

View CHASSIS SAVER Catalog Pages (PDF 2201 kb)

What's correct for your application?

UCP99 Gloss Black As a primer or finish coat, Chassis Saver has become the industry standard for high performance protection on all vintage truck and auto underbody surfaces including frames, floor boards, engine compartments, trunk areas, under fenders, fire walls, rocker panels, behind bumpers, etc. The #1 choice for fleet maintenance at hundreds of public works facilities, DOT shops, truck maintenance and fleet refinishing shops nationwide. Extensively used on snow and ice removal equipment saving thousands of dollars in costly repairs.
UCP970 Antique-Satin Black - For factory original restorations on all underbody and engine compartment surfaces. Cures to a silky smooth sheen. Use silver-aluminum as a base coat/primer.
UCP934 Silver-Aluminum - As a pre-primer under gloss or antique-satin black. Heavily filled with over two pounds per gallon of flake aluminum to help smooth and fill pits and deeper rust damage. Incredibly dense yet extremely flexible. Commonly used for marine barge and oil field maintenance. Great for metal roofs, steel truck rims and to rejuvenate tired, rusting chain link fence.

Application Note: While Chassis Saver has incredible rust and corrosion resistance and can be used for all underbody applications without top coating, it is sensitive to UV light (sun) and its initial appearance will change over time. Its RUST STOPPING properties and corrosion resistance will never degrade but its color will shift from black to charcoal gray. Silver-aluminum remains very close to its original appearance. If aesthetics are important, Chassis Saver can and should be top coated with a quality industrial or automotive finish. Any opaque finish is effective. Clear coating is not recommended as protection. Suitable topcoats include any MAGNET Finishing System including 4800 Series Synthetic Urethane Enamels, MAGNACRYL 9000 Series Acrylic Enamels or MAGNATRON 5000 Series Acrylic Polyurethane Enamels. Call customer service or ask your local distributor for more information.

pricing
CHASSIS SAVER Pricing
$USD
UCP99-04
CHASSIS SAVER Gloss Black - 1 Quart
49.90
UCP99-01
CHASSIS SAVER Gloss Black - 1 Gallon
139.50
UCP99-05
CHASSIS SAVER Gloss Black - 5 Gallon
N/A
UCP970-04
CHASSIS SAVER Antique-Satin Black - 1 Quart
49.90
UCP970-01
CHASSIS SAVER Antique-Satin Black - 1 Gallon
139.50
UCP970-05
CHASSIS SAVER Antique-Satin Black - 5 Gallon
N/A
UCP934-04
CHASSIS SAVER Silver-Aluminum - 1 Quart
49.90
UCP934-01
CHASSIS SAVER Silver-Aluminum - 1 Gallon
139.50
UCP934-05
CHASSIS SAVER Silver-Aluminum - 5 Gallon
N/A
UCP98-04
CHASSIS SAVER Floor & Machine Gray - 1 Quart
49.90
UCP98-01
CHASSIS SAVER Floor & Machine Gray - 1 Gal
139.50
UCP98-05
CHASSIS SAVER Floor & Machine Gray - 5 Gal
N/A
For thinning CHASSIS SAVER Rust Preventive Paint
S8-04
Magnet Multi-Temperature Reducer - 1 Quart
15.75
S8-08
Magnet Multi-Temperature Reducer - 1 Pint
11.25
S8-01
Magnet Multi-Temperature Reducer - 1 Gallon
41.75
S8-05
Magnet Multi-Temperature Reducer - 5 Gallon
N/A

Current Prices Effective 9-24-2018